Home on the Grange - Music Series at Lopez Island Grange, Lopez Island, Wa.
Film Screening & Q&A - Who Bombed Judi Bari? - Fri. March 8 2013 - 7:30 PM ~ Port Stanley Schoolhouse - Lopez Island, WA

Tix: Suggested Donation $10 (sliding scale). Door Sales only.


Sponsored by Home on the Grange & Lopez Knowledge Share: Honoring Judi Bari on International Women's Day

Who Bombed Judi Bari? Hits Lopez Island as Producer/Victim Hunts for Bomber - Documentary of Unsolved Mystery Chronicles FBI's Arrest of Redwood Activists and Car Bomb Victims; and a Victorious 1st Amendment Lawsuit.

The 93-minute, award-winning documentary will screen at Port Stanley Schoolhouse on International Women's Day, March 8th at 7:30 PM. The film will be followed by a Q&A with producer/victim Darryl Cherney. The movie has been well received by the critics as well as garnering numerous awards at major film festivals: http://www.rottentomatoes.com/m/who_bombed_judi_bar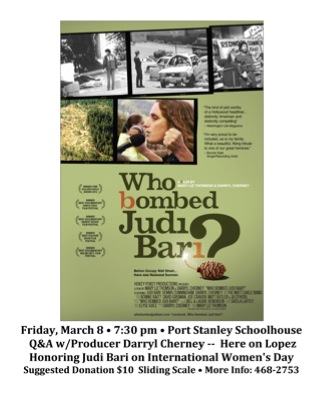 Who Bombed Judi Bari?
chronicles a great, unsolved mystery: On May 24, 1990, an assassination attempt was made on one of the most prominent environmental organizers of her day,
Judi Bari
. Bari and her eco-cohort,
Darryl Cherney
, were car-bombed in Oakland in 1990 while on a musical organizing tour for three months of demonstrations called Redwood Summer. The feisty Bari was galvanizing thousands to camp out and protest the clearcutting of the giant trees. Despite receiving dozens of death threats, Bari and Cherney were arrested by the FBI and Oakland Police and accused of bombing themselves. The pair went on to sue the authorities for civil rights violations, winning four million dollars, though not before Bari died of cancer seven years after surviving the crippling bombing.
Who Bombed Judi Bari? is composed of archival footage including a special Humboldt County live version of "Angel from Montgomery" performed by Bonnie Raitt; rare footage of Woody Harrelson climbing the Golden Gate Bridge for the redwoods; and a tribute to Judi Bari by California Governor Jerry Brown. Judi Bari herself narrates the movie via her 1997 deathbed deposition captured on videotape. As she recounts her life story under oath, the movie flashes back and forth to footage of the daring, action-packed, yet often humorous and musical scenes she depicts.
Part of the post-trial settlement included attaining the right to analyze evidence should the authorities choose to dispose of it. Of great interest are two bombs, both made by the person(s) who bombed Bari's car.
News: The mystery of who car-bombed Earth First! and labor organizer Judi Bari in 1990 may be solved yet, as far as fellow victim turned documentary film producer Darryl Cherney is concerned. He just won the right to have key evidence in the case tested this month that could identify the bomber through DNA or fingerprint analysis, which the FBI studiously avoided performing for 22 years. The evidence was delivered to a forensic lab of Cherney's choosing on Thursday, Jan 31 and is being prepped for forensic examination. Additionally, his production company is offering a $50,000 reward for information leading to arrest and conviction of the bomber while he simultaneously self-distributes the movie he and Director Mary Liz Thomson crafted out of colorful archival footage of the redwood timber wars of the 1980's and 1990's.
A donation of $10 (sliding scale) is requested. All funds go to keeping the film on the road, and the investigation of who bombed Judi Bari. I would like to start this film as near/or as close to 7:30 PM as possible. I am also looking for more sponsors who are able to contribute to the cost of venue rental, ferry fare etc…
Please visit the
Who Bombed Judi Bari website
for more info, and to view the trailer about the film. More info: 360- 468-275
3

Elephant Revival - Weds. August 15th 2012 - 7:30 PM ~ Woodmen Hall

Tix: $15 Adults. 12 & under FREE, 12-16 - $8. Door Sales only.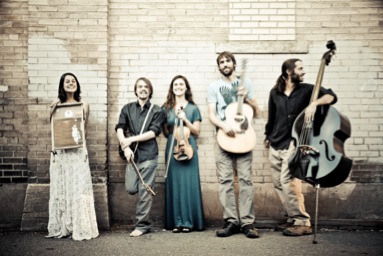 "Where words fail … music speaks."
That simple line atop Elephant Revival's Facebook page contains only five words, but reveals volumes about the band's reason for being. Music unites us in ways that no other medium can. Even when we don't understand one another's languages — we can be moved by a rhythm, soothed by a song. Brought together by a unified sense of purpose — the spirit of five souls working as one, in harmony, creating sounds they could never produce alone.
The five souls in Elephant Revival are Sage Cook (banjo, guitar, mandolin, tenor banjo, bass and fiddle); Bridget Law (fiddle, octave fiddle); Bonnie Paine (washboard, djembe, musical saw, stompbox); Daniel Rodriguez (guitar, banjo, bass); and Dango Rose (double-bass, mandolin, banjo). All share vocals and write songs. Paine delivers additional beats via footstomps on plywood, her stockinged feet doing near jigs as her hands, encased in antique leather gloves, rub silver nickel against corrugated metal.
This Nederland, Colo., quintet are, needless to say, quite a sound to be experienced — especially when they fall into the pocket of a groove containing elements of gypsy, rock, Celtic, alt-country and folk.
The Indie Acoustic Music Project simply labeled their sound "progressive edge." At least, that's the category in which it placed the band when it gave their Ruff Shod/Nettwerk Records release, BREAK IN THE CLOUDS, a best CD of 2011 award. It's as good a label as any to convey what Rose has described as their mission: "to close the gap of separation between us through the eternal revelry of song and dance."
Elephant Revival also shares a commitment to responsible stewardship of the planet and its inhabitants, working with organizations such as the Conscious Alliance, Calling All Crows, Trees Water & People, and other nonprofits supporting humanitarian causes. Their very name was chosen out of empathy for a pair of zoo pachyderms who, upon being separated after 16 years, died on the same day. The band related that heart-rending story during their April 2012 debut on fellow Coloradoans Nick & Helen Forster's internationally syndicated "eTown" radio show — like Elephant Revival, a blend of music and social consciousness.
Sitting in the audience during their performance, one music blogger was moved to write, "Elephant Revival serenaded the crowd with arabesque melodies, harmonies and rhythms that braided and coiled into a sublime aural tapestry. Their instrumental dynamics, verse, and even the harrowing story that inspired their appellation, invoked the majesty, mystery and sorrow of Mother Earth."
Campout for the Cause festival organizers put it this way in an affectionate shoutout on their Facebook page. "We love Elephant Revival so much," they wrote, "not just for their incredible music and conscious lyrics, but for their commitment to living up to the standards they set forth and setting positive examples."
It's a paradigm worth spreading, and that's what Elephant Revival members intend to continue doing as they carry their music around the world, speaking one song at a time.

Elephant Revival Homesite:
Elephant Revival

Elephant Revival on FaceBook:
Elephant Revival on Fa
cebook
Watch Elephant Revival on YouTube:
Remembering A Beginning
,
Drop
,
Nostalgia #28